Hong Kong Comics Festival!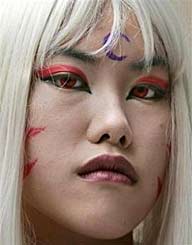 The
Hong Kong Comics Festival
in Hong Kong opened with a pre-party "Costume Play" competition on July 19th, 2005. The much anticipated Cosplay event attracted hordes of fans dressed up as their favorite Japanese anime or manga characters, like the lovely creature pictured above. The international press and local media went nuts photographing the flocks of otaku dressed as characters from
Saint Seiya
,
Full Metal Alchemist
,
The Twelve Kingdoms
, and other popular Japanese animation figures. The 7th annual ComiCon is being held at the Hong Kong Convention and Exhibition Center, and features a massive Japanese comics marketplace combined with a game fair presenting all the latest in anime related digital entertainment. The ComiCon runs from July 29th until August 2nd, 2005, and is expected to attract a whopping 450,000 attendees!