Astro Boy - Tetsuwan Atom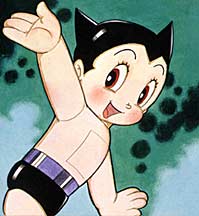 Tetsuwan Atom
is known by every Japanese person, and his creator, Tezuka Osamu is revered as the "father of anime and manga".
Tetsuwan Atom
was first published as a successful manga in 1951. The manga became the very first to be translated into an anime, a black and white animation that was broadcast on Fuji television from 1960 to 1966. The series was dubbed into English, renamed
Astro Boy
, and broadcast on American television for the first time on September 7th, 1963. That date was a fortuitous one, being my ninth birthday. I grew up with
Astro Boy
and
Gigantor
, another imported Japanese animation to be broadcast in America during the early 60's. Mitsuteru Yokoyama's
Tetsujin 28
(Iron Man 28 in English), was dubbed into English and renamed
Gigantor
. These two shows had enormous influence upon me and my entire generation, and they marked the beginning of what was to become America's infatuation with anime.
Tezuka created many masterworks, from his endearing children's story
Jungle Emperor Leo
(which Disney based its
Lion King
upon), to his detective thriller,
Black Jack
. Tezuka is so highly thought of in Japan that there is even a
museum dedicated to him
which displays the original drawings and artworks he created throughout his career. Everyone in the world owes it to themselves to become familiar with Japan's most famous animator, and there's no better place to start than the official
Tezuka Osamu World
website.
Astro Boy
continues to make waves around the world long after his first appearance. In 1982 a new color television series was launched, producing 50 episodes. He was inducted into Carnegie Mellon University's Robot Hall of Fame in 2004, along with
C3P0
and
Robby the Robot
. Today all around the world
Astro Boy
can be found on t-shirts, key rings, bags, posters and tons of other merchandise… and the
Astro Boy
animation is selling stronger than ever. In fact, Sony Pictures Home Entertainment is presently working on a feature length movie that will soon hit the silver screens! Our friends at Sony Pictures recently sent us the following message:
"Blast off with the all-new
Astro Boy: The Complete Series DVD
collection, a high quality, state-of-the-art update of Tezuka Osamu's classic animated series that started the anime explosion. Filled with exciting action, humor and drama,
Astro Boy
tells the story of a young robot boy modeled after the deceased son of a research scientist. Originally intended to be kept a secret, the atomic-powered robot becomes a reluctant superhero ­ complete with devices like laser-firing fingers, uncanny hearing and jet-powered boots ­ all eventually used to fight for justice and peace ­ for humans and robots alike! For the first time on DVD, this collector's edition contains the entire 50-episode series on five discs, with 29 episodes never-before-aired in the United States. Own
Astro Boy: The Complete Series
on DVD today. From Sony Pictures Home Entertainment. To learn more about Astro Boy or to purchase your copy, visit
www.sonypictures.com/astroboy
."
The staff of the Black Moon knows that many of you are dying to get your hands on this new box set of classic
Astro Boy
anime… so we're going to hold a contest! We're giving away copies of Sony's
Astro Boy
DVD box set (worth $50.00), to the first three people who can answer our super-difficult question (aside from that, you must pay for the cost of mailing the prize to you -yeah, we're cheapskates). So here's the question:
Which late 1970's Los Angeles punk band did a cover version of the
Gigantor
theme song? Think you know the answer?
Write to us
and see if you win the DVDs!