William Shurtleff and wife Akiko Aoyagi travelled extensively throughout Japan to compile the information held in this remarkable book. With over 250 recipes ranging from main dishes to deserts, this authoritative book belongs in every health conscious cook's kitchen!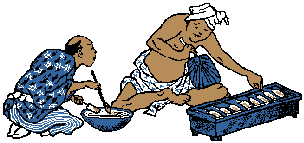 Tofu is one of the world's most remarkable foods, and it's perfect for those who desire a meatless diet. It is low in fat and high in protein, cholesterol free, versatile, delicious, and inexpensive. Originally from China, tofu has been used by the Japanese for a thousand years, and there are literally hundreds of ways to prepare it. There are two basic types of tofu used in Japanese cooking, the standard "firm" variety, which has a rough surface and slightly grainy texture and "silken" tofu (kinugoshi), which is very soft and possesses a glossy surface. While both varieties have the same ingredients they are made in slightly different ways. All the recipes on this page call for the firm
variety of tofu.
Simmered tofu is a symbol of wintertime cooking and is known from Buddhist monasteries to drinking establishments. Simmered in a light kelp stock the simplicity of this dish features the texture and taste of the tofu. The dish is ready the moment the heat of the stock has penetrated the core of the simmering tofu. An absolutely delicious and delicate way to prepare tofu that is deeply satisfying on a cold day.

INGREDIENTS


2 blocks firm tofu
2 inch length konbu (kelp)

DIPPING SAUCE
1 cup dashi (see basics for preparation method)
1/2 cup soy sauce
2 tablespoons sake
2 tablespoons mirin
1/4 cup loose bonito flakes

To make the dipping sauce, combine the dashi, soy sauce, sake, and mirin in a saucepan and bring to a boil over high heat. Add the bonito flakes, remove from the heat and strain to clarify. Keep the resulting sauce warm in the saucepan.

CONDIMENTS


2 finely chopped green onions
1 sheet crumbled nori seaweed
2 tablespoons white sesame seeds
2 tablespoons fresh grated ginger

Fill a pot to the halfway point with water and add the konbu, heat over medium flame taking care never to let the water boil. Once the hot water has released the taste and aroma of the konbu, cut each tofu block into 8 pieces and let simmer in the hot stock. After around ten minutes the tofu can be plucked from the stock and placed in a serving bowl to be topped with hot dipping sauce and the various condiments
| | |
| --- | --- |
| Grilling tofu seems to be a Japanese invention and may be one of the very first ways in which it was prepared. Originally, Yaki-dofu (grilled tofu) was made by placing the tofu on bamboo skewers and then grilling it around an open hearth fire. As the style of cooking became popular, skewered tofu was grilled on hibachi (a charcoal brazier) in restaurants and in concession stands. Yaki-dofu is still made in those traditional ways, but today most people use their stove broilers to grill the tofu. Yaki-dofu is served sizzling hot with shoyu or miso, or used as an ingredient in soups, oden, and other recipes. Here is my favorite recipe for grilled tofu using miso as a "barbeque" topping. | |
2 blocks of regular firm tofu
3/4 cup of white dengaku miso... see recipe under miso
6 tablespoons of red dengaku miso (see recipe under miso)
1 teaspoon of very finely grated orange or lemon peel
1/3 cup of lightly steamed spinach leaves

Remove the excess moisture from the tofu by wrapping it in a clean towel and placing it between 2 cutting boards, let stand for 30 minutes. Now cut the tofu into slabs about a 1/2 inch thick and two inches long.

Prepare the miso toppings. To make the white miso topping mix 6 tablespoons of the white dengaku miso with the grated citrus peel and set aside. To make the green topping, puree the cooked spinach leaves and then mix thoroughly with 6 tablespoons of white dengaku miso. The red dengaku miso is ready as it is and will need no further preparation.

You can grill the tofu in one of two ways, in an oven broiler or on the stove top marshmallow style! If you choose the oven broiler, place the tofu on aluminum foil and broil each side until nicely browned... If you choose the stove top method, skewer the tofu with a long metal fork or bamboo skewer and hold just above the flames until the tofu is browned... Now, spread each of the tofu slabs with one of the three colored dengaku miso toppings and grill again until lightly browned. Serve hot.
ABURA-AGE (deep fried tofu)
| | |
| --- | --- |
| Deep fried tofu, or abura-age, is used in soups, one pot cookery, noodle dishes, and in many other ways. It can also be delicious all by itself as a topping on a bowl of rice (domburi). Deep fried tofu can be purchased at most Asian food stores, but it is easily made at home, and all that you'll need is a wok for the deep frying and a colander for rinsing and draining. Deep fried until crisp and golden brown on the outside, abura-aga is amazingly white and soft on the inside! Here is how you make deep fried tofu. | |
INGREDIENTS

1 block of regular firm tofu
A wok or large deep pan
1 small bottle of vegetable oil (about 20 fluid oz./or 600 ml)
I small pot of boiling hot water
large plastic or metal colander

Remove the excess moisture from the block of tofu by wrapping it in a clean towel and placing it between 2 cutting boards, let stand for an hour or two. Now cut the tofu block into triangle shapes (see drawing), about two inches long. Pour the oil into the wok and heat, when you dip a chopstick into the heated oil and bubbles rise from it the oil is ready for use. If the oil smokes it is too hot. Using the wok's spatula, slide the tofu triangles one at a time into the hot oil. Fry on both sides until golden brown.

Scoop the triangles out of the wok and allow them to drain on the wok's draining grill (or place on paper towels). Once the triangles are drained and cool, it's a good idea to give them a second deep frying. This deepens their golden color and makes them nice and crisp. Place once again on the grill to drain and cool.

The final step requires that you place the fried tofu triangles in a colander and run very hot water over them. I put the colander in the sink and allow the hot water from the faucet to run over the tofu, while I simultaneously pour boiling water from a pot over the triangles. This hot water bath completely leeches all remnants of oil from the tofu, resulting in tofu that you would never magine as having been deep fried. Pat dry the tofu and serve with rice or noodles and a little shoyu, or use the fried tofu in another recipe.