Japanese Otaku Art hits New York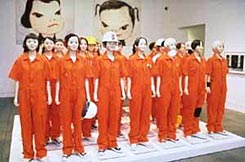 The Japan Society gallery of New York has just opened a new exhibit called,
Little Boy - The Arts of Japan's Exploding Subculture
. Curated by Japanese artist Takashi Murakami, the show is the third and final installment in a series of shows around the United States which began in 2000. From the Japan Society's website: "
Little Boy -The Arts of Japan's Exploding Subculture
explores the culture of postwar Japan through its arts and popular visual media, from the perspective of one of Japan's most celebrated artists. Focusing on the phenomenally influential subcultures of otaku (roughly translated as "pop cult fanaticism") and its relationships to Japan's artistic vanguard, Takashi Murakami explores the historical influences that shape Japanese contemporary art and its distinct graphic idioms. The exhibition's title,
Little Boy
, refers to the atomic bomb dropped on Hiroshima in 1945, clearly locating the birth of these new cultural forms in the trauma and generational aftershock. In Murakami's perspective, a resonant figure for Japan's contemporary condition is that of the little boy --both the nickname for the bomb dropped on Hiroshima and an image of Japan's infantalized culture." The exhibition runs through July 24, 2005. The Japan Society is located at 333 East 47th Street New York, NY 10017, telephone 212.832.1155. For more info, visit
www.japansociety.org
We here at the Black Moon took in the first show in the trilogy, Superflat, at the Los Angeles Pacific Design Center in 2000. The show was an interesting and unusual combination of contemporary Japanese pop art, paintings, sculptures, 3-D displays, and wall-size blow-ups of images which reference Japanese manga and anime styles and characters. Ranging from well-crafted models of recognizable anime characters, to large paintings of manga-inspired young women in supernatural settings, to videos created by contemporary anime filmmakers… the show did much to introduce the American museum-going audience to what many underground American otaku were already well familiar with. While we encourage everyone who can make it to New York to see the show… we also have to question what shows like this do to shape the average American's view of Japan, and contemporary Japanese culture. The title of this current show is intriguing, and we would hope that this time around the curator will put more effort into creating a cultural and historical context for his viewers. (posted by J.)