Japan's Peace Movement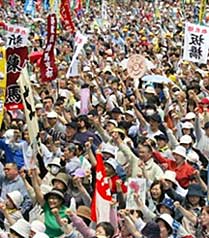 On May 1st, 2005, close to 300,000 Japanese gathered across Japan to celebrate International Worker's Day. Protests held in more than 350 locations called for an end to the Iraq war and a global ban on nuclear weapons. May Day marchers also expressed their opposition to the growing militarism of the Japanese government, and demanded that there be no changes made to the country's post-war pacifist constitution. Right-wing nationalists are pressing to alter the constitution, allowing Japan to conduct military operations overseas. Organized labor had a strong presence in the demonstrations, with many activities sponsored by Japan's largest labor union, the Japanese Trade Union Confederation (Rengo). A crowd of over 43,000 gathered in Tokyo's Yoyogi Park for the May Day celebration, and Kiyoshi Sasamori, President of Rengo told them, "Peace is a basis of the labor movement. We never allow any war in order to fulfill our responsibility for global peace. Japan is now experiencing an increasingly bigger gap between the strong and the weak. Rengo will try to solve as many problems as possible as a representative of the weak." Many Japanese are fearful that the militarism of the past is returning, and so the Tokyo rally was held under the theme of "Peace, Human Rights, Labor, Environment and Coexistence." Japan's May Day focused on the issue of global peace, especially with the country marking the 60th anniversary of the atomic bombing of Hiroshima and Nagasaki.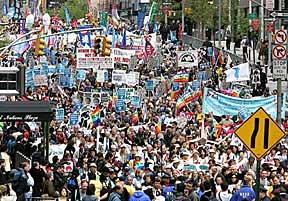 Japanese peace activists, labor leaders, and politicians, also participated in a May Day march in New York city ahead of a May 2nd UN international conference reviewing the Nuclear Non-Proliferation Treaty. Upwards of 60,000 people took part in the New York march, which was organized by American peace groups,
United for Peace and Justice
, and
Abolition Now
. Iraq war veterans and military families also joined the peace march. Marching in the massive protest were Tadatoshi Akiba and Itcho Ito, the mayors of Hiroshima and Nagasaki. A number of
hibakusha
(atom bomb survivors), were also in the procession, dressed in white and carrying banners against nuclear weapons. The huge demonstration went through Manhattan, marched by the UN building, and eventually ended in Central Park, where thousands of people formed a human peace sign that was photographed from an airplane. While possessing tens of thousands of nuclear weapons, and now developing new "strategic" battlefield nukes, the Bush administration hopes to "close loopholes" in the Nuclear Nonproliferation Treaty that would allow it to go after Iran... which it says is "pursuing" nuclear weapons. That irony was not lost on the tens of thousands who marched in New York, chanting, "End the war in Iraq - No More Hiroshimas!" (posted by M).